J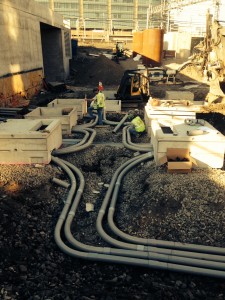 . Iapaluccio, Inc. was incorporated in the State of Connecticut in 1977. The company was originally a small family owned business named J. Iapaluccio & Sons owned by Joseph Iapaluccio during the early 1950s. The company started paving driveways and installing septic systems, and has grown from the original 5 employees to a dedicated crew of over 50 with many exceeding 20 years of service under the direction of Michael J. Iapaluccio, President. The company is prequalified as a Major Contractor by the State of Connecticut DAS and an approved contractor for municipalities and utility companies.
J. Iapaluccio, Inc. specializes in the following:
Safety
We believe that safety is the most important thing we do every day and have proven that over the years. Our workforce maintains a number of safety certifications and outreach training each year which include OSHA 30, OSHA 10, Competent Persons, First Aid/CPR/AED, HAZWOPER 40 & 8 Hour Annual Refreshers. In addition to the list of certifications and training, we enforce a rigid safety policy inclusive of jobsite inspections and weekly Tool Box Talks.
Staff
We are able to provide our services with such success, due to our people. J. Iapaluccio employs some of the most experienced and skilled personnel in the industry. From estimating and project management through to our field personnel, a high level of professionalism and the capabilities to work through the complex projects can be expected.
Additional information and/or references for our staff, current and past projects can be furnished upon request.
Green Building
J. Iapaluccio owns and operates a materials processing facility which can receive and recycle earth and/or demo materials for re-use. With a LEED AP BD+C professional on staff, we have been able to be an active team member on a number of past projects in their pursuit of LEED credits.